So much goes into a hunting season. So much planning, so many expectations, so many dark mornings, so many memories made, and then, with one sunset, it ends. All that a year could bring wasn't enough, could never be enough, a lifetime could never be enough.
Duck hunters don't live forever. It's hard to remember that, especially on an October morning under a peach-colored sky, alongside firm friends with ducks over the decoys.
There's been a spate of hunting types passing out of this world lately who happen to be just ahead of me in life's strata, which doesn't make me nervous as much as it makes me sad. Some were old acquaintances, some friends, but they all touched my life in one important way or another.
The most recent was George Trulock, the founder of Trulock Chokes, who passed away in June. George was brilliant, always accessible, and always had time to explain the complicated nuances of choke development. His booth at the annual Shot Show became a regular stop for me for many years, much like a classroom, and I was all ears. His sons Scott and Jerrod will carry on. Rest in peace, George.
An even more personal loss was the passing of my friend Randy Bartz, The Flagman. I first hunted with Randy back in about 1994 and again two years later. We became friends and stayed in touch. Randy was the consummate innovator. He singlehandedly brought flagging to its rightful place in the waterfowler's arsenal, and he had a tireless eye for any new way to fool ducks and geese. Much of the motion we utilize today, we owe to Randy. He passed away in 2020, that awful year when we all stayed home. I never got to see him again.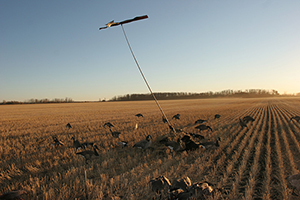 Randy was once the caretaker of a well-known honey hole in northwest Minnesota, The St. Paul Pass Duck Club. Known for canvasback and diver hunting on its famous "Pass," a spit of land that extended out into North Ten Mile Lake, Randy saw another opportunity for the club. Canada geese had made their dramatic comeback and northwest Minnesota saw a lot of migratory Canadas throughout the fall, so this got Randy thinking. How could they get the mile high migrators into gun range?
Randy's solution: geese like parks! Why not create a park-like setting at the base of the point, replete with mowed lawns, full body goose decoys and picnic tables? At the same time, the water on both sides of the point could be filled with Canada floaters.
I was invited to hunt with a couple of the hotshot young guides Randy had hired to do the goose calling. The results were impressive. One of the guides was a cigarette smoker. The geese we were calling to came from so high that when we started calling the kid lit a cigarette. He smoked the entire cigarette before those geese made their last turn to come into the decoys. Game over. Miss you Randy.
"I thought we could sit forever in fun. But our chances really, was a million to one."—Bob Dylan