Let me first say to you, gentle reader, that I hope you and yours are well. These are unprecedented times, and we, like you, are very interested to see what form the 2020–2021 hunting season takes. We share your ambition to get back under the open skies and among the marshes again.
Like other businesses, we have had to cut back on some services during the recent shutdowns. Perhaps you had noticed that a person did not answer the customer service line. Instead we encouraged you to leave a message and that we would get back to you as soon as possible. We apologize for this temporary inconvenience. We are now answering the phones all day during regular business hours. But it's worth reminding you that you can easily subscribe or renew online at our SUBSCRIBE page. You also can get a FREE American Waterfowler Canvas Hunting Cap if you subscribe or renew now at a special rate on our website.
As the entire country has gone through slowdowns, so too have some of our partners. We're all working together to get back to full bore. In the meantime, when it comes to the magazine, we harken back to the immortal words of the greatest showman, P.T. Barnum: "The show must go on!"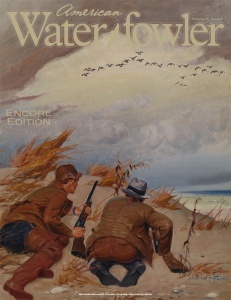 In keeping with that spirit, we at American Waterfowler continue to produce our cornerstone magazine; you can depend on that. The June/July issue is the second we have released during the current crisis, and we are proud to bring it to your door as promised. This one is special in several ways.
We're calling this issue an ENCORE EDITION, because it features several stories pulled from past issues, brought back into the spotlight because they're worth retelling. Each article has been edited again, but if you've been a reader of American Waterfowler from our beginnings more than a decade ago, you may recognize some of them. For us, revisiting these timeless stories provided as much entertainment as when they were originally submitted.
There are also new offerings in this issue, of course. Lefty's Blind Bag on page 12 covers six exciting products you might consider as the 2020 season approaches. For those of us who haven't tested them already, they're in the lineup for this coming fall. Another current topic of coverage is Jarrod Spilger's Shotguns column on page 18. To Super X shotgun fans like myself, the news of Winchester's new 20 gauge SX4 brought a smile to our faces. I already have two cases of 20 gauge dove loads and another case of duck loads ready to run through what will be my new special order SX4. The fun never stops.
While we navigate this time together, we will continue to bring you the best of the waterfowling lifestyle. Up next, you can look forward to an all-new 2020 Gear Guide issue, packed with the latest products and great storytelling. In the meantime, we hope that you get outdoors, buy new gear and continue to move the needle for the outdoor industry and its conservation partners. Your support for our waterfowling traditions is essential at a time like this. Thank you for your business and commitment.