Spending time in a duck blind with a hunting buddy on a slow day, we had plenty of time between shooting opportunities. Everybody knows this drill– conversation turns to this and that and the flow and pace make birds almost an interruption, though a welcome one.
So, we got to talking about duck numbers, agreeing that times have changed, how we still have good, even great, hunts, despite the hunting grounds taking on new shapes, with new rules, new challenges, lost prospects and in some cases new opportunities.
Pontificating about the world of today, we wondered aloud about the world of tomorrow. What would it be like? What best-case scenario for ducks and duck hunters could be imagined, and what might the worst look like? What could we tolerate, and what would be intolerable?
Best case, we decided, would be 10 times the number of canvasbacks. That settled, we moved to broader (less selfish) states of affairs: A country extremely protective of the value of wetlands as a resource integral to clean water, as insurance against major floods and for maintaining diversity against a monoculture, development-prone landscape. In this brave new world, the citizenry and the government would strictly enforce laws that protect wetlands, and landowners would be compensated for the value their wetlands bring to the landscape and the population as a whole, much like CRP. Violations against wetlands would be prosecuted vigorously.
That settled, we came across three intolerable things the real future might hold:
  Prairies without potholes. What is a prairie without potholes? It is simply a plain, as in the Great Plain. Iowa and Minnesota represent the most shameful examples of wetland destruction, with Iowa eliminating 99 percent of its former wetlands and Minnesota 98 percent, most done under the supervision of government and its programs. NOW, not in some imagined future, both Dakotas continue to drain and tile while c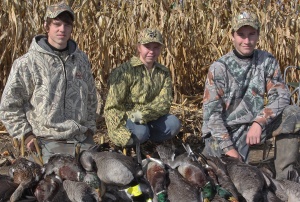 ounty agriculture agents defy Swampbuster rules with a wink and a turned head. The Dakotas without wetlands seems inconceivable.
Privatization of hunting. This is the European tradition, not ours, but it is becoming our way too. The boom in buying deer hunting property in the Midwest was just the start. Pheasant hunting in South Dakota is mostly fee hunting. Waterfowl guides must now tie up sections of land to assure access for their clients. There may be no way to avoid this, but it certainly is unlike the old days when posted signs weren't hot sellers at the local hardware store. Could we be less than a generation away from a predominance of fee hunting? It seems inconceivable, but….
A kid who wants to hunt, with nobody to take him hunting. There's no telling what youngster is going to get bitten by the hunting bug. It doesn't take having a dad to own a slingshot and stalk starlings and chipmunks. But how's that kid going to get to go on a real hunt when he's 12 to 15 and can't drive. As hunter ranks shrink, so do the number of mentors. An apple tree can't grow up straight and strong without a little guidance, and neither can a kid. It's inconceivable that a kid wouldn't have the same opportunities we grew up with, or is it?
Oh well, wishes and worries aside, we shot a few ducks that day, too.