Last fall, the fall of 2021, will be remembered for many reasons, not the least of which will be freedom from the limitations a toxic virus placed on travel and gatherings just one year before. It's no secret—2020 stunk.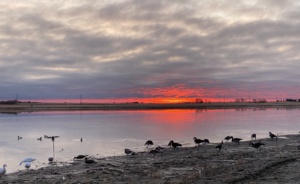 Now, travel is unrestricted, lodges have reopened, big family gatherings are in vogue, Canada has unlocked the gate and hunters who may have cancelled plans the previous year have been back on the road. Was 2020 even real? It seems like some sort of bad dream.
Not that the aftereffects aren't showing. Travelers to Canada still need tedious and timely health credentials to enter—a protocol that turns what should be excitement at crossing the border into worry and stress.
Then there are the shortages. Need a new this or that for this year? Backordered, or out of stock" seems to be a common warning  on many websites. If you order a product that was made somewhere across the Pacific, it's no doubt sitting in one of those ships waiting outside the Long Beach Harbor, or perhaps waiting for a truck that can actually haul it. Or, as you may learn from our April/May 2022 issue, pretty much all new boats require getting on a waitlist—though if you shop you can probably find one "ready for fall."
Which brings us to ammo shortages. Need shotgun shells? It's getting better, but thank goodnessI
And speaking of  back to Canada,. My friend and American Waterfowler contributor, Jack Hirt, returned from his annual (except in 2020) trip to northern Saskatchewan. Snow goose hunting was excellent, Jack reported. The flocks of snows and Ross' geese were on time and packed with juvenile birds, making for epic hunts. It's good news for spring and fall snow goose chasers on this side of the border.
Jack said ducks were present too, maybe not in the numbers of previous years but in plentiful supply, nonetheless. Being close to the semi-permanent wetlands of the boreal region and somewhat immune from the prairie drought, that made sense.
In our conversation, Jack mentioned a morning in a field where the five of them shot 40 pintails. You can imagine my surprise when the Saskatchewan limit was four pintails as recently as last year, and one pintail across the U.S. "Yeah, I'm not really sure what that was all about, but that was the new limit, eight pintails per day," Jack said. "And most of them were brown birds." Which translates to, it was difficult to pick out drakes versus hens. Canada places no such distinction within their limits, but I've hunted plenty with Jack, and I know he's a drake shooter when offered the choice.
That reminds me of a September when I was in Alberta hunting mallards and the flocks were full, it seemed, of "brown" birds. Sometimes a flock of 30 would come in and there would be only one visible drake. I held off on a lot of flocks, but with a bunch of other shooters, a lot of brown was hitting the ground, including hens. I asked the outfitter, a former DU biologist, if the practice of shooting so many hens might have a negative effect on mallard production. His answer, "We don't shoot enough ducks in Canada for it to matter." I wasn't sure if that was the truth or a statement of convenience, and I still wonder today.
Here's to 2021. We hope you had a great, or at least good, season!