Perhaps like you, I've been hunkered down for a while now. I've gotten some major projects done around the homestead, but have limited my trips away from home. Sure, there's the gas station and the grocery store, but it's in and out. Not the right time for idle chitchat. That's too bad, because a proper chitchat is good tonic once in a while.
I'm not a kid anymore, and I've got teenagers at home, so my vagabond instincts have pretty much fallen away. But I wonder, what must it be like for that 18- or 25-year-old, chomping at the bit, like I once was? Where would I be right now if I had to safely and responsibly navigate the world as it is today? There are probably ways to do it.
When I was just shy of 20, I built a box on the back of my early model red Ford pickup and headed to Montana. When I got tired, I found a place to pull off the road and made my bed in the back of the truck. Couldn't afford motels. That would work just fine today, except for the fact that part of that lifestyle is visiting with strangers you meet along the way. Okay, so you have to pack a face mask.
Again, in my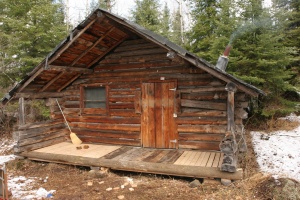 20s, a friend and I did an extended backpack into the high country of one of Montana's wilderness areas. Driving from Minnesota to a trailhead on the Wyoming border, the trip consumed about three weeks. In all our time on the trail, we saw only one other hiking party. We saluted views from the top of the world. We fished high-country streams and lakes that few ever see and feasted on trout and grayling at every opportunity. That trip was not for the novice backpacker, but it certainly fits today's times.
Also in my 20s, I fulfilled a promise I made to myself at 18—building a cabin on family wilderness property in Ontario's lake country. I spent six weeks of one summer cutting, skinning and stacking carefully chosen logs on the site, a week in the winter hauling in materials over the ice by snow machine, then another spring and early summer building the cabin. Rarely saw another human in that wilderness, other than the few people who shuttled in and out to help with the project. I guess I couldn't do that today, because the Canadian border is closed, but there's plenty of wild country in the U.S. to chase a dream.
Wanderlust never sleeps. For many years I traveled solo every year to a rare, wooded area of North Dakota for two weeks of archery hunting for deer and shooting ducks and geese. I rented a little cabin. There was a lot of alone time involved. I guess a person just has to be comfortable with that fact. Perhaps lovers of the outdoors are somehow uniquely suited.
Perhaps a young person could look at this time as an opportunity, not an inconvenience. A perfect time to chase a dream—to find a seam that can be safely navigated, and jump on in.