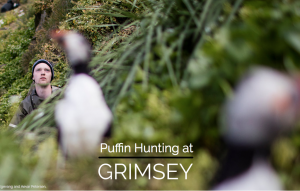 By Jay Strangis
Most of us would say we hunt for food, but few modern hunters could be termed "subsistence hunters." That claim would take us back many years to the days when the country was first settled, and predate that to the Native Americans, some of whom still hunt and fish today in a manner more akin to subsistence. It is doubtful, however, that any human in North America today is going to starve for lack of hunting.
So hunting, really, is more tradition than subsistence, and it is also apparent that the traditions of today's hunters don't look much like the traditions of yesteryear.
But if you want to take a step back in time without leaving your 21st century easy chair, let me recommend a new website to you: Atlanticseabirds.info, a project of three seabird ecologists with the goal of conveying the unique Nordic way of life in the region's peripheral zones.
As the authors state, "The circumstances around seabird harvesting may have changed, but the harvest takes place almost like millennium ago. The opportunity of harvesting the Goods of Nature is still considered a fundamental birthright in many small places in the Nordic region."
This may not be "waterfowl hunting" as we know it, but if you are a hunter at heart, you can't help loving these incredible images and the stories behind them from Iceland, Greenland and the Faroe Islands. Follow puffin hunters on their annual quests; see and read about harvests of eiders, eider down and eider eggs; see an image of a young girl on the ice with a harvest of king eiders; and much more.
A total of 25 seabirds breed in Iceland, and currently 17 species can be harvested. In icy Greenland, a total of 19 seabird species can be harvested (though you probably won't be gunning for guillemot on the cold winter seas—or maybe you will, God help you!).
On the remote Faroe Islands, seabird hunting has a long tradition, and the annual take is between 50,000 and 250,000 birds, a wide range because it is only estimated with no actual reporting taking place. As the authors report, "On land the traditional way of fowling is by using the fleygastong, a net between two thin arms on a long pole, and the method is used for puffins and fulmars. At sea newly fledged fulmars are picked up from boats using a landing net. Shooting occurs at sea in winter, and the species hunted are shags, common guillemots, razorbills and puffins."
I few years back I hunted waterfowl in England with some fellows who had visited Iceland to hunt the greylag geese that summered and bred there. Their greatest impression of the country was that most anything with feathers was fair game. Once you've seen atlanticseabirds.info you'll be convinced the Brits weren't far off in their assessment. Some traditions are just downright more TRADITIONAL than others.