If you would have told me nine months ago that the world as we know it would take a 90-degree turn, I would likely have thought you to be kidding, a conspiracy theorist, or completely mad (as in crazy). But here we are. If you had told me that the U.S./Canadian border, something that has been a part of my life since a young child, would be closed for perhaps a year, I would have laughed—not possible. But here we are.
Over the past eight months, the world has been redefined and we've adapted to new realities not by choice but by necessity. And we've done a good job of it, in many cases. Even our terminology has changed. Terms like "essential workers" and "front-line workers" now define diverse groups of people in the important roles they play for a working society. Online learning is no longer an outlier method of getting a degree; it has become standard fare. Social distancing? Who ever heard of that? We've adapted in the workplace, with more telecommuting, more online meeting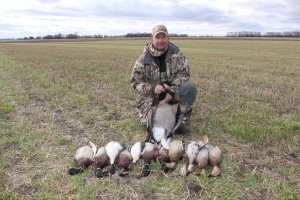 s. We've adapted in business, with empty spaces becoming outdoor cafés, and box stores and restaurants combining online business with curbside pickup.
Personally, I'm impressed with how much a society can change in so short a period, but do I like it? No. In so many ways it's inconvenient as heck—especially when it comes to hunting!
I had plans for a couple of trips across our northern border—both cancelled. Minnesota's Game Fair, a fun August event—cancelled. Shot Show, a January industry even—cancelled. NWTF, a February event in Nashville, cancelled. As I write this, I'm still trying to figure out what our trips to the prairies are going to look like when motels and restaurants and travel in general are factored.
It's all a pain in the behind. Yeah, I get that some alteration in routine is required in these unusual times, and yes, I want to keep my family safe and intend to follow guidelines to do that. But let me be clear—I can't wait to turn the page.
On the other hand, I think the ducks and geese might be liking this, at least those north of the Canadian border. I hear this from my contacts up there who have found hunting to be tough this year. According to reports, the birds in Canada are having a party—one to which you and I weren't invited.
To start with, weather early was unusually warm—never great for hunting. Add to that a landscape with an endless buffet table and too few hunters to keep the birds honest. And finally, for goose hunters, too many adult geese are in the flocks, which means fewer mistakes by the birds and tougher decoying for the hunters.
One source reported watching scouted birds feed in four different fields in the same afternoon, with the hunters completely vexed by where the birds might go next. I don't know about the hunters, but it sounds like the birds are doing a great job of social distancing! www.waterfowler.com/subscribe