Hunting methods have been evolving throughout man's existence—think club, spear, arrow, gun—but it is only in the modern era that it became necessary to devise a new threshold called "fair chase," essentially self-imposed limitations on the means and methods of the hunt. The limitations of fair chase seem obvious when considering the vast arsenal at man's disposal, including not just modern guns, but motorized vehicles, airplanes, radios and even drones.
Fair chase may be self-imposed by the individual, or mandated by law, but it is always at its best when born out of the heart of the hunter. Yet hunting methods continue to evolve right along with other solutions to meet all of life's demands. This forward movement is in our nature. In the process, fair chase sometimes becomes an impediment to reward, instead of the reward itself.
Examples of shifting attitudes and the associated traditions of fair chase are everywhere, yet in waterfowl hunting, the traditional methods of chase seem stable. Why would this be so?
We used to think of big game hunting as man versus beast (think old poster of charging bear), yet among rifle hunters, new loads, better optics and improved guns have made long-range shooting the latest craze. One western hunter I met proudly told me that he shot a deer at 1,000 yards. That's one heck of a shot, well over a half mile to the target, or as some would say, "in the next zip code." Muzzleloaders have turned into easy loading, longer shooting in-line guns that ply the special seasons reserved for "primitive" weapons. Compound bows and crossbows with scopes are now integrated into the seasons originally reserved for the simple stick and string recurve bow. Yet despite all this change, waterfowl hunters still engage their quarry with the same limitations imposed almost a century ago: three shots and no bore larger than 10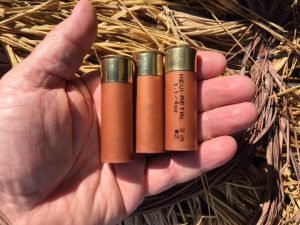 gauge (special spring white goose conservation order excepted when magazines may hold more than three shots).
There is a simple reason that waterfowl hunting stands out as "unchanged" over so long a period of time. Simply put, federal law requires it. Long ago, and in the face of tremendous pressures on the resource, that is, ducks and geese and other birds, the feds imposed the rules we still have in place today for the taking of migratory birds.
No state can usurp the migratory bird rules, no industry can lobby them away. I, for one, am happy for it. As waterfowlers, we may have to worry about water quantity and quality and numbers of breeding ducks, but we don't have to worry about our traditions and how we'll be hunting in the future. We're still quite capable of missing birds at 30 yards and running out of ammo after three quick shots. As it should be.